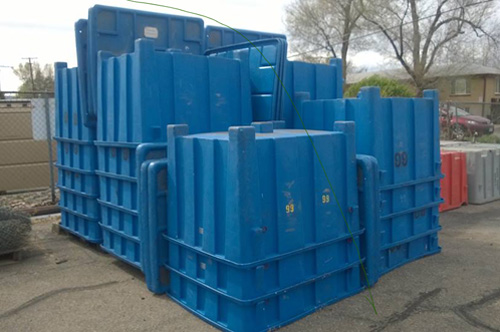 Large Outdoor Storage
These are top-lockable, forklift/floor-jack accessible from two sides, outdoor tough, and (almost) water-proof. To buy these new, the cost would be in excess of $550.00. Given that they are used, but in great condition, we offer them for $150.00, each.
See the pictures below for top-locking ideas. One shows a top having an attached slip-clip (pin). This is just an example of the pin approach you might use. Most of the blue totes have holes (only) that the metal hardware peg would through when the top is put on, which you then put the pins through – see close-up picture for the example of the hole in the top lip with the hardware peg in it.
The (bottom) center has a support extrusion – just like the ones on the four corners that adds strength for heavy loads.
See the picture showing the tote on it's side, looking at the inside of it. These bins previously held about 4,000 lbs. of textiles (shop and bar towels mostly), transporting them from Denver to Ohio on a monthly basis.
The bins measure approximately 3′ x 4′ x 3′ (we measured them at 38″w x 46″d x 35″t), which works out to approximately 36 cubic feet that each bin can hold – in volume.
These totes are made of 1/4″ flexible (meaning it doesn't shatter when they are abused, or fall over) plastic. We don't know the technical description of the type of plastic, but we knocked over a stack of six of them (nested), getting them off the trailer, with no negative consequence.
We don't know the manufacturer or the brand name.
Our customers have used our totes to put engine blocks in and store them outside the shop (to make room in the shop); another was going to use one for feed storage in his barn; yet another was going to put marketing materials (signs, banners, folding chairs, etc.) into one and, again, put it outside, making room in his garage for his wife's car. Ourselves, we use six (6) of them for shop towel storage – outside – and they stay dry in these totes.
Due to their size, they are available for local pickup – at our plant in Lakewood. If you want to have them shipped, please e-mail or call us to coordinate with us.
Call us anyway for more suggested uses: 720-515-1666
It's O.K. to CALL US directly:
(720) 515-1666
Plant Location: 6000 West Byers Place
Lakewood, Colorado
Mailing Address: 265 South Harlan Street
Lakewood, CO 80226